Enriching Events
Shakespeare Writing Project
To be, or not to be: that is the question…
We started 2023 with an exciting whole school writing project where we travelled back in time to study Shakespeare. Each year group had a different play to focus on:
Year 3: The Tempest
Year 4: Macbeth
Year 5: Rome & Juliet
Year 6: A Midsummer Night's Dream
Each year group explored the play through stories, films and drama, and all of our learning was linked. All of our work led to a final piece of writing which varied from character descriptions, alternative endings and new adventure stories. Some fantastic artwork was produced including fairy self-portraits, masquerade masks and puppet theatres.
To end the writing project, we held a showcase in The Plaza where each year group had the opportunity to share their learning and final pieces.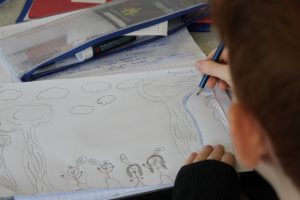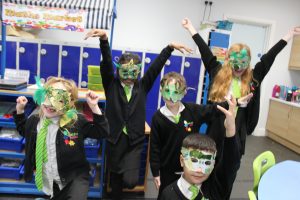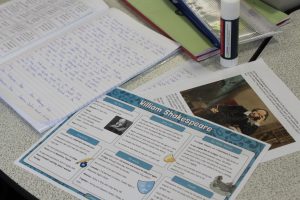 The children unanimously voted 'to be'!
Year 6:
I really enjoyed the opportunity to transform ourselves into a fairy. I liked writing Puck's next adventure because we got to be creative. Rebecca
I liked when we created funny Shakespearean insults. Finley
I liked acting and writing about Puck. Olivia
Year 5:
We learnt about old language and 16th century culture. Harrison
My favourite part was learning Shakespearean insults. I learnt lots of nonsense words. Amber
I enjoyed writing our own ending of Romeo and Juliet and also acting out specific scenes. Lola
Year 4:
The piece of work I am proud of is my shoe box because I did it all by myself. Lottie
I am most proud of my newspaper work. Billie
I am proud of my comic book because it was hard and I persevered. Theo
Year 3:
I love his plays. Theo
My favourite thing was making the Caliban masks, and my favourite character is Prospero because he forgave everyone in the end. Jacob
My favourite part of the Shakespeare project was the Tempest dance. Shelby
Panto 2022: Aladdin
Oh yes it is!
In keeping with our aim to ensure all pupils have the opportunity to access enriching experiences, we surprised the whole school with a visiting pantomime company. They had the children engrossed in the story of 'Aladdin' with very few props. It was pure joy to see the excitement and enjoyment on their faces.
Merry Christmas to our awesome SEJ pupils, staff and community.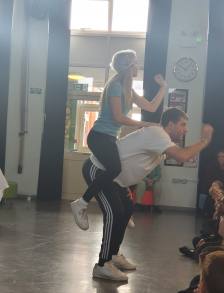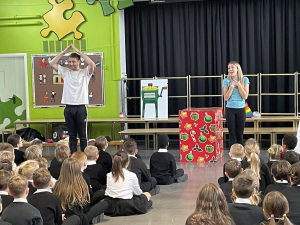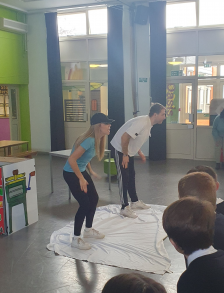 Hanukkah Celebration 2022
The Jewish Festival of Lights
On 8th December, Year 5 we were privileged to have a visit from Rabbi Mike from the Northampton Synagogue.
He spoke to the children and staff about how Hanukkah is celebrated and other traditions in the Jewish community. The children were lucky enough to be able to eat sugared donuts and gold chocolate coins that are traditionally eaten over Hanukkah. They were also taught how to play a traditional game of Hanukkah using the dreidel, which they enjoyed very much.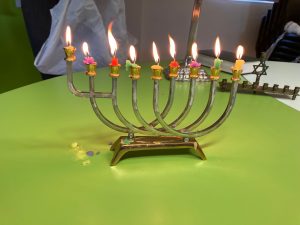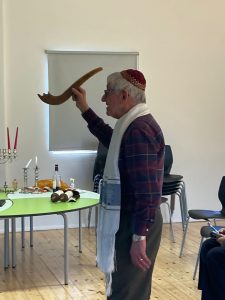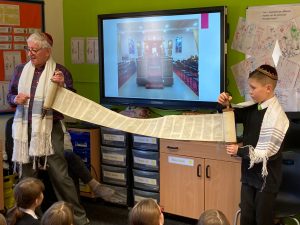 Y3 Christingle Service
The Christingle begins with an orange…
On the evening of 7th December, Y3 pupils and their families joined together in St. Mary's Church for a Christingle Service led by Reverend Tom King.
It was a joyful celebration that brought families and the community together to spread a message of hope.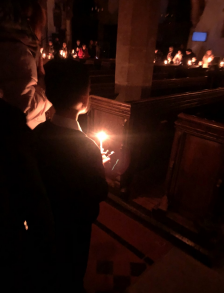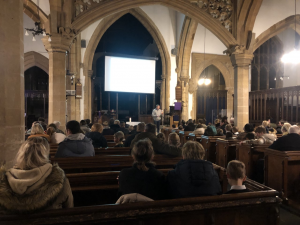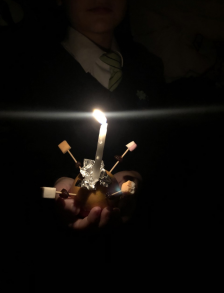 Anti-Bullying Week 2022
Reach Out!
Miss Ryan launched this year's Anti-Bullying Week (14th-18th November) in assembly. This year's theme was 'Reach Out'. During the assembly, we talked about the difference between being rude, being mean or bullying someone. We also talked about the importance of reaching out to others and talking to your trusted adults.
Over the week, year groups completed a variety of activities linked to Anti-Bullying including discussing scenarios and saying what you would do to help someone in a difficult situation. Year 6 looked at the differences between emotional, verbal and physical bullying and how a victim of bullying may feel and how their behaviour may change.
We also celebrated Odd Socks Day on Monday 14th November.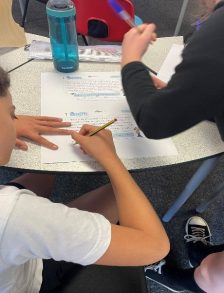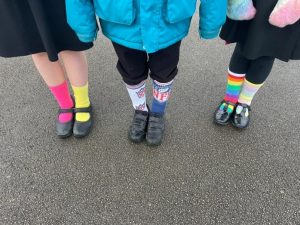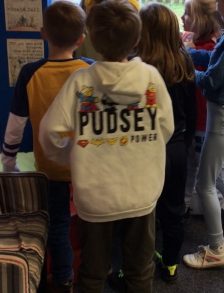 Children in Need 2022
Together we can change young lives
Children in Need has been a great success this year. The children all looked brilliant supporting their school house in the set colours or in their Pudsey gear! A huge thank you to everyone who was able to donate something, whether it be 5p or £5. At last count, over £260 had been raised for the charity, and there were still more donations coming in! All the money raised will go towards supporting children and young people both in our community and further afield.
Garden of Remembrance Service 2022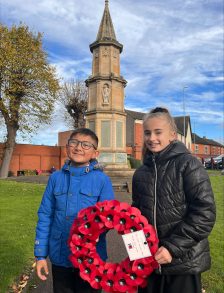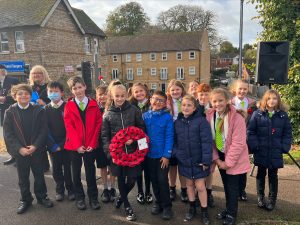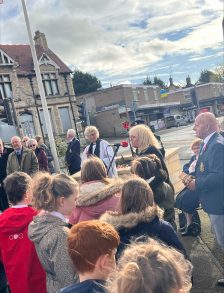 We will remember them
On Wednesday 9th November, Y6 walked to the war memorial in Rushden to participate in the Garden of Remembrance Service. While paying our respects to those who lost their lives to protect our country, Head Boy and Head Girl laid a poppy wreath on behalf of the school, and 12 pupils were selected to plant cross in the garden.

Thank you to Lynne from the Royal British Legion for making this happen for us again this year.
Geography Study Week 2022
Where in the world do you aspire to visit?
Our value of aspiration was launched through our Geography Study Week this year. While developing our geography knowledge, we also explored towns, cities, countries and continents both near and far. The week culminated with a showcase of all the learning and pupils having the opportunity to visit all classrooms across the school.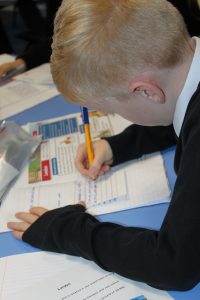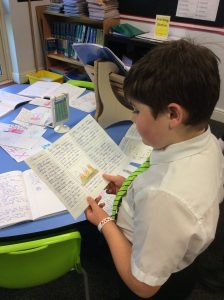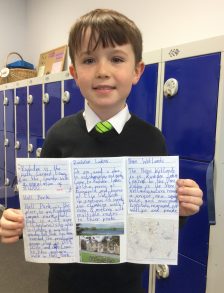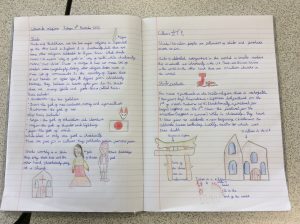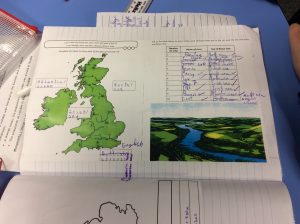 The feedback from the children was overwhelmingly positive:
Year 6:
I have loved everything about Geography Week. I liked learning about the best places to live and work in China. Noah
I enjoyed learning about the culture and childhood of people in China. Esme
I would love to live in Japan, but it would be hard to learn the language and use chopsticks. Harry
I've really enjoyed learning about Japan. I know how to say hello and I'm trying to learn the numbers from 1 to 10. Chloe
Year 5:
Geography is my favourite subject. I liked doing the research and finding facts. I've learned that the dome on the Hagia Sophia is 105 feet across. Miguel
I've enjoyed learning about Italy the most. It has really good landmarks like the leaning Tower of Pisa and that in Venice there's no roads just water to travel on. Gracie
I've enjoyed learning about all the different cultures in Europe and I've been able to learn more about the countries this week. Harrison
I liked learning about the different counties. I've learned new things like famous attractions such as La Scala in Milan is the biggest opera house in Europe. Owen
Year 4:
I liked doing maths and geography and finding out where we could visit on a budget and how many times we could visit with the money we had. Ava
We've been learning about the UK and the capital cities and the monuments. We learned that in summer it could get to 31 degrees in Edinburgh. I've enjoyed everything. Elijah
I've enjoyed doing geography because we've learned about new countries. Cardiff has a castle and is in Wales. Amera
I liked writing and learning about London. Did you know that there are over 300 languages spoken in London? Kacey
Year 3:
We've been learning about the temperature in Rushden. James
I've learned about Rushden and Splash Leisure Pool. Rushden Transport Museum is free and it sits on a triangular piece of grass. Sophie
I've enjoyed geography week making a leaflet about Rushden. Austin
I've enjoyed measuring the temperature of the day. Isabella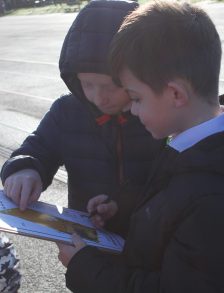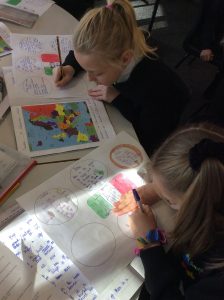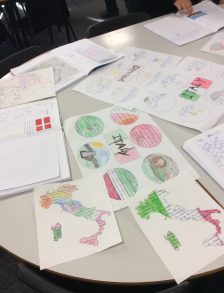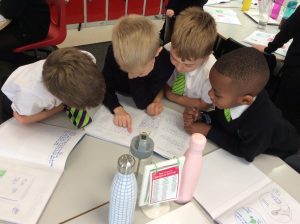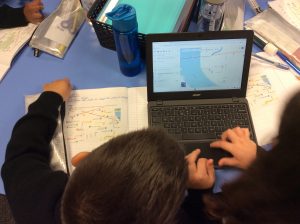 Diwali: October 2022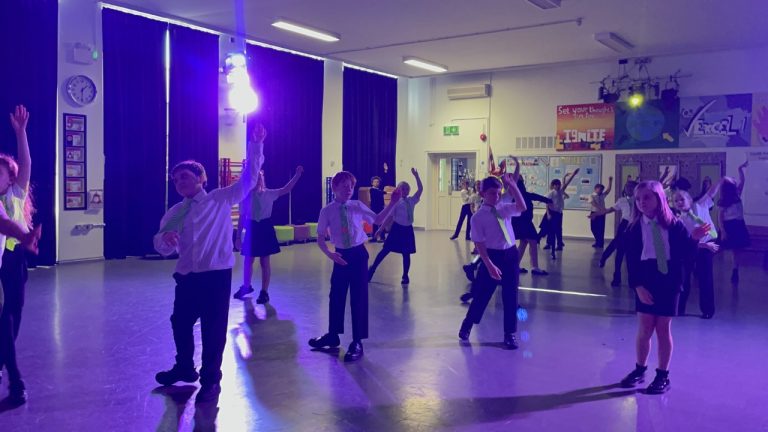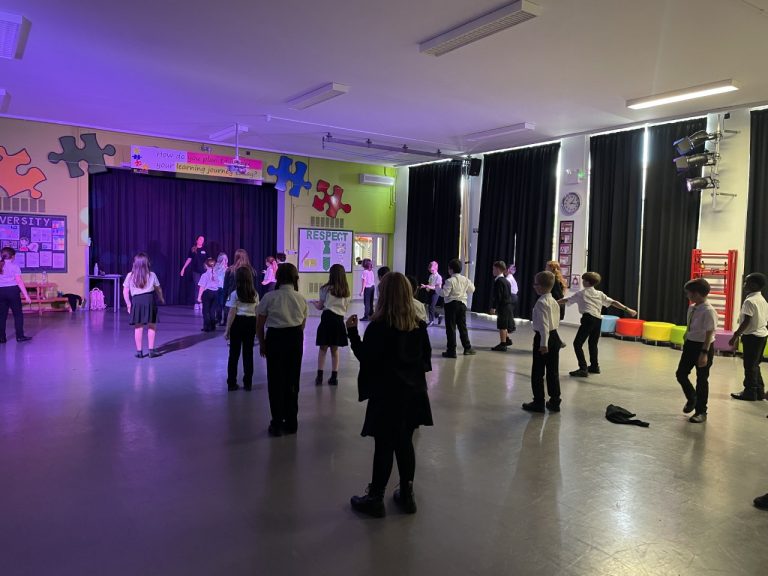 The festival of light
In the last week of autumn term 1, Year 4 and Year 6 recognised and celebrated the Hindu (and Sikh and Buddhist) festival of Diwali. This year, the learning was very much hands on and included dance workshops, rice art and food tasting!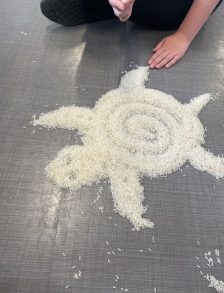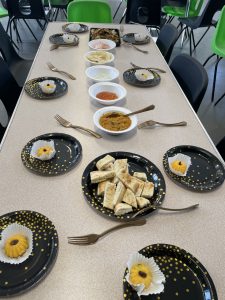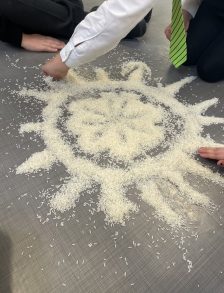 Class of 2022: Graduation
Thursday 21st July saw our Class of 2022 leave us in style!
Our leavers have brought fun, laughter, happiness, sadness, excitement, cheekiness, friendships, fallouts, love and smiles to our school and to each other. They have all shone in showing our school values, standing by our South End Signature and achieving the very best in all they have faced. Undoubtedly, they will take all of these skills and attitudes to their new schools: how lucky they are!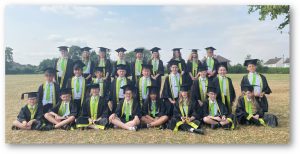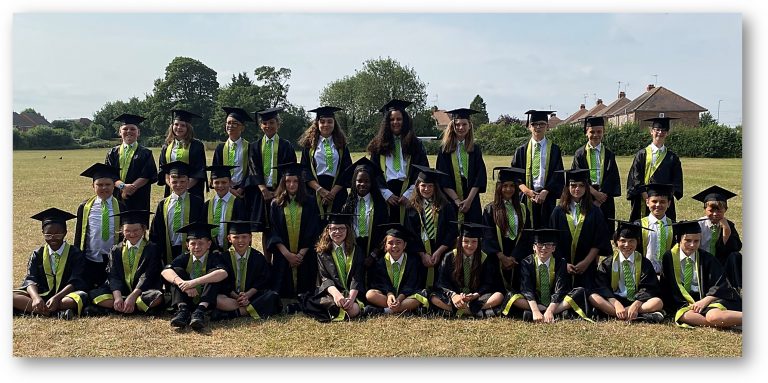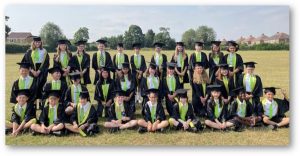 Year 6 Leavers' Show: Prexit!
Year 6 delivered the most fabulous performance of their leavers' show – Prexit – in their penultimate week with us. They did us and their families proud, but most importantly, they did themselves proud.
We have waited so long to watch a live show on stage in school, and this bunch of awesome performers made up for it by bringing about an abundance of laughter and wide smiles on the faces of every member of the audience.
Class of 2022, it has been a pleasure!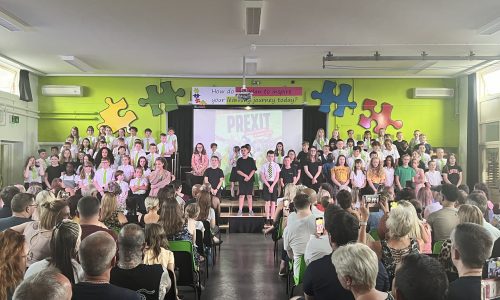 Queen's Platinum Jubilee Celebrations: 27th May 2022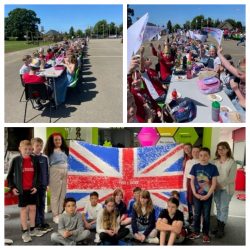 On Friday May 27th 2022, we celebrated the Queen's Platinum Jubilee by having our very own garden party. The children baked cakes, made bookmarks, produced postcards and created crowns. Stamps were designed and the royal family tree explored.
A great day was had by all!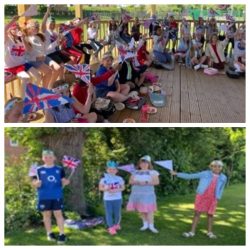 Eid al-Fitr: May 2022
Years 3 and 5 loved learning all about the festival of Eid, an exciting celebration that occurs at the end of Ramadan. Eid al-Fitr is a time for Muslim people to thank Allah for the strength that he has given them to have self-control during Ramadan. It is a time to celebrate with family and friends. Eid Al-Fitr translates as 'festival to break a fast' – the children all agreed that finishing a fast would definitely be worth celebrating!
The children learnt about how different families choose to celebrate Eid, whether it be through wearing new clothes or sharing delicious feasts. Many people choose to adorn their bodies with beautiful mehndi patterns, something that the children were in awe of! We also discussed the importance of colour, particularly when decorating homes with ornaments and lanterns.
With their new knowledge about the importance of colour when celebrating Eid, the children created beautiful silhouette scenes, showcasing traditional buildings against a vibrant colour wash.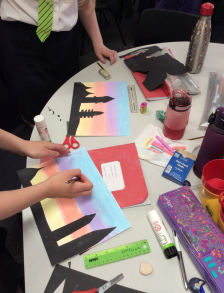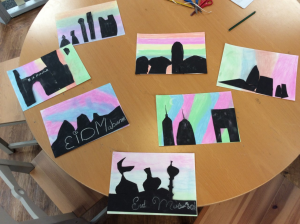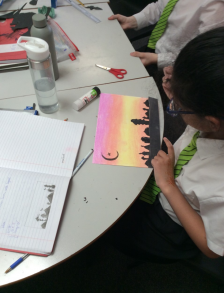 Vaisakhi: April 2022
Years 4 and 6 spent an afternoon learning about the Punjab harvest festival of Vaisakhi, a time where people celebrate with lots of music and colour. The day is celebrated with bright, colourful, new clothes; singing; and dancing.
Vaisakhi is particularly important to Sikhs. For Sikhs, the day is marked by an early visit to the Gurdwara which is decorated with flowers and offerings; attending processions through the streets; singing and chanting of hymns and scriptures; dancing; and evening meals with the family.
The children loved learning about the fascinating history of the celebration, as well as creating their own Vaisakhi crafts. A characteristic that is associated with the festival of Vaisakhi is the flying of kites. On this day, all the members of the family indulge in not only playing with kites, but also making kites at home.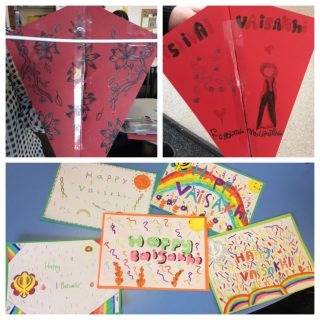 Stop Everything and Exercise Week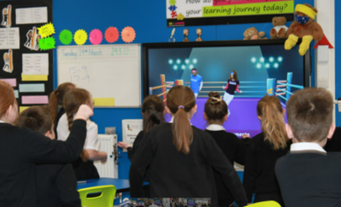 Week beginning 28th March 2022
As part of our PSHE learning around being healthy, we had a 'Stop Everything and Exercise' week. The children had spent the term learning about the importance of having healthy bodies and the part exercise played in this. Throughout the final week of term, the children stopped at multiple points throughout their day for a few minutes to get their hearts racing. Children did a variety of different activities including dancing, running, yoga and stretches. This built upon the half term's review of the importance of hitting 60 active minutes each day.
British Science Week 2022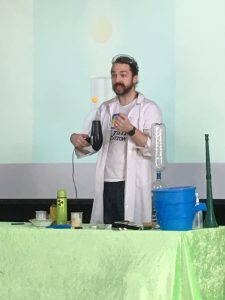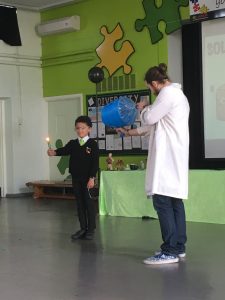 Smashing stereotypes and inspiring investigators!
What a fantastic day the children had to celebrate British Science Week!
Dan Tastic helped to embed our love of science through an experiment extravaganza. The buzz around the school after his visit was amazing. The children were blown away from the concepts that were explored, showing them aspects of science that they hadn't seen before – sending the electrons around a human circuit was one of their highlights – along with the smoke rings from the airzooka and the power of the different lasers: WOW! Even the adults were enthralled… who knew lasers was an acronym?
It was a great day linked to our assembly about smashing stereotypes in science and inspiring all to be scientists of the future.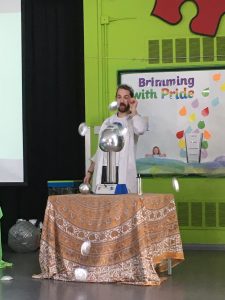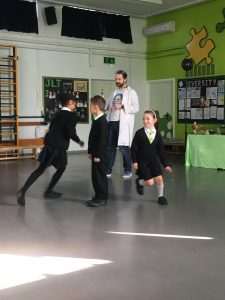 Holi Celebration: Friday 18th March 2022
The festival of love, colour and spring!
Years 4 and 6 had a brilliant time learning all about Holi Festival! The children learnt about the history of Holi, as well as learning about the Hindu legends and folk stories that are believed to contribute to the meaning of the festival.
We learnt about how Holi marks the start of spring, and is sometimes known as the Festival of Colour. It celebrates good winning over evil. The children discussed what this means to them, and how they can celebrate positivity in their everyday lives.
During Holi, people sing, dance and have fun together, no matter who they are. Celebrations start with a Holika bonfire, followed by people throwing Gulal powder, which comes in many colours. Together, the colours create a glorious rainbow, usually seen in parks and public spaces across the globe.
With this fascinating new knowledge in mind, the children created beautiful pieces of artwork inspired by the many vibrant colours of Gulal powder. Their only instruction was to create a colour explosion!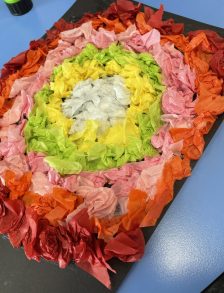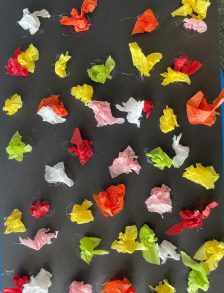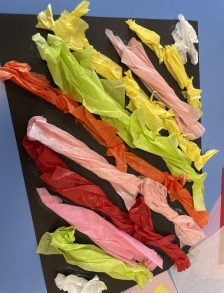 Whole school writing project: March 2022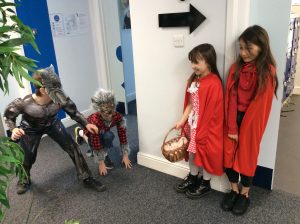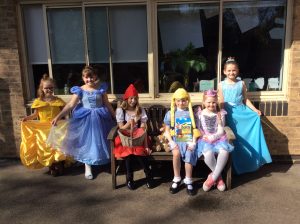 Twisted Tales!
To launch our whole school writing project, we had an unexpected visitor in assembly: The Big Bad Wolf. He came to tell us the true story of the 3 little pigs, and from that, we explored a range of fairy tales across the school. Each year group had a focus fairy tale, and all of our learning was linked to this! As it was a writing project, we produced lots of fantastic writing, including mash-up fairy tales, twisted stories and stories from a different character's perspective. We also had 'Piggy PE', drawing antiques from the Beast's castle, and creating pop-up story books. To end the project, we dressed up as our favourite fairy tale character and had a showcase to share our work with everyone. What a fantastic project, South Enders!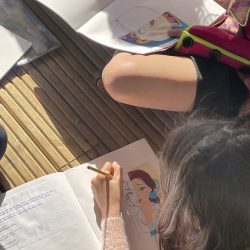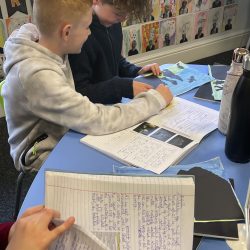 Fundraising for Ukraine
We stand with Ukraine
In support of the people of Ukraine and the unimaginable trauma that they are experiencing, our community wanted to do their bit to help.
On Friday 11th March, we held a 'yellow and blue' mufti day and asked families to donate what they could afford. Our fantastic community raised a breath-taking £1500!
Thank you to everybody who supported the event.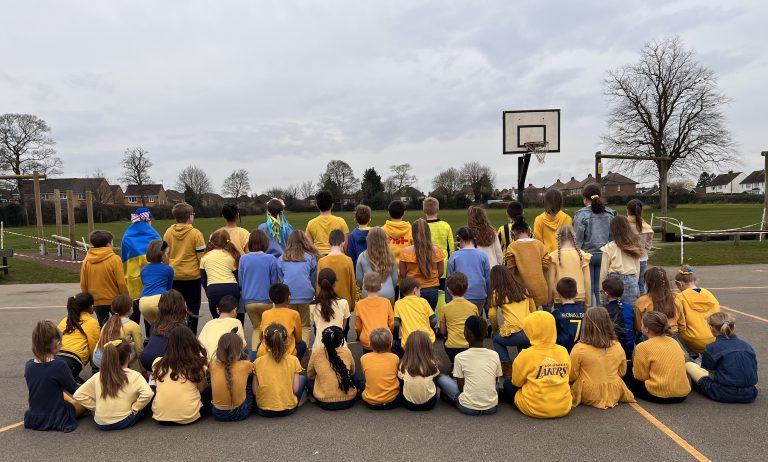 World Book Day 2022: Thursday 3rd March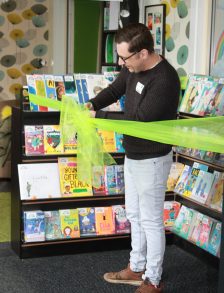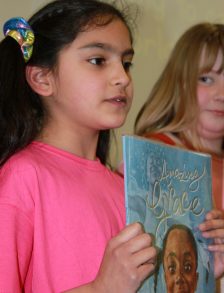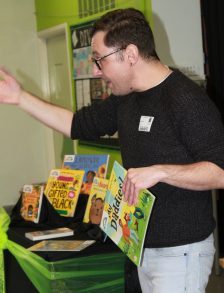 Celebrating diversity in children's literature with Gareth Peter
This year on World Book Day we celebrated diversity in children's literature. We welcomed the Northamptonshire born author of 'My Daddies', Gareth Peter, who opened the new area in the Avenue devoted to books on diversity. As well as running workshops throughout the day, he talked to the children about being an author and answered their many questions.
'Can Gareth come to our school every year on World Book Day?' (A year 3 child).
'This school is amazing. Every class is brimming with creativity and excitement. They welcomed me with loving arms.' (Gareth Peter).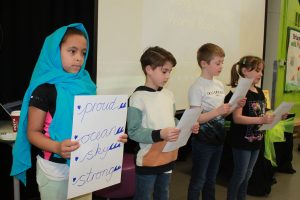 Northamptonshire Mental Health Awareness Day: Friday 11th February 2022
Theme: It's The Inside That Matters
Unlike physical health, you cannot always see when someone's mental health needs help or support because, sometimes, how they look and present themselves to the outside world is not really how they are feeling. Our mental health is just as important as our physical health.
On 11th February, the whole school contributed to an artistic installation by writing their feelings down, which will be sealed into seven rainbow coloured Perspex boxes at Northampton Museum.
Year 3 and 4 children did a guided meditation and 'Take 5' breathing, talked about the theme of the day then created a support balloon. They discussed ways of self-regulating and were reminded how to use the class self-regulation basket of resources and worry eater.
Year 3 children also designed their own emotional regulation displays based on Zones of Regulation and the 'Inside Out' film characters.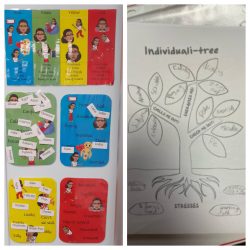 Year 5 and 6 children learnt about what mental health is and why looking after it is important. They discussed words such as anxiety and depression and explored different emotions we have, and when we feel that way. They used this to make an emotions wheel. They discussed worries and strategies for coping with worries: write them down, share them, throw some away if we can't do anything about them. They then created 'Individuali Trees'. Children wrote things that make them stressed in the roots of the tree, and in different sections/colours wrote things that cheered them up, inspired/energised them and that they were proud of.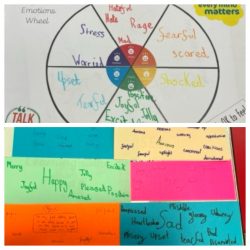 Safer Internet Day 2022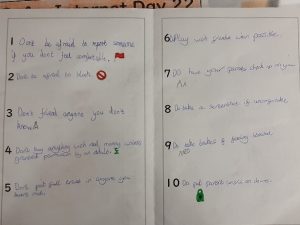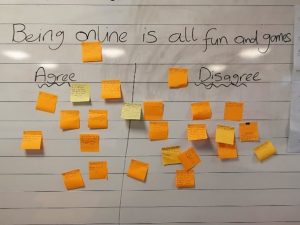 On Tuesday 8th February, pupils celebrated Safer Internet Day. Pupils took part in different activities, discussing the theme: All fun and games? Exploring respect and relationships online.
We created class charters – striving to be the best we can be around technology.
Year 5 and 6 also had visit from Rushden Academy: they performed a play about the dangers of interacting with strangers online.
Year 3's created a recipe for healthy online relationships and then made a charter on how they are going to stay safe online which they signed (they created the rules themselves).
Year 4 took part in a Safer Internet Quiz: learning how to keep themselves safe online. They then created their own comics strip, illustrating how they would deal with different scenarios they might face online.
In Year 5, children discussed how to play games safely online, and then started work on making Gaming Guides for other children.
Year 6 debated the question: Playing online – all fun and games? They discussed cyber bullying, PEGI ratings, privacy and permission. They then developed their own do's and don'ts for being online.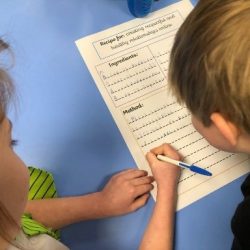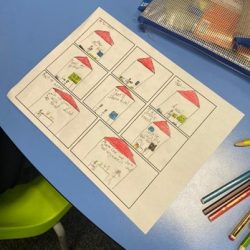 Chinese New Year 2022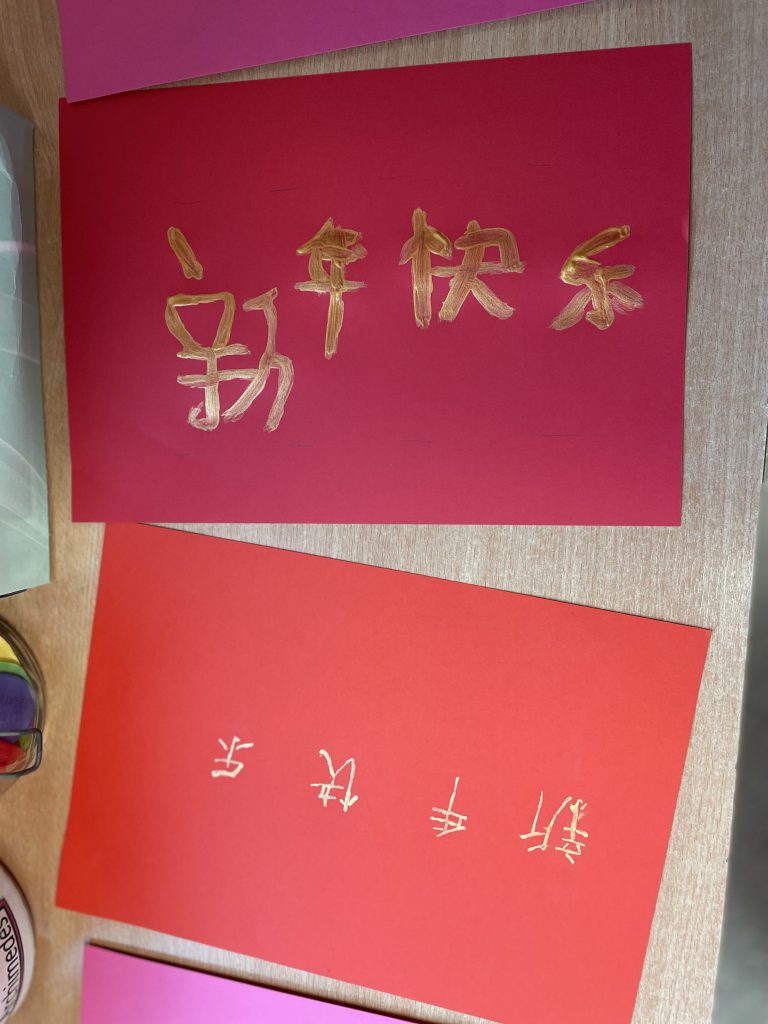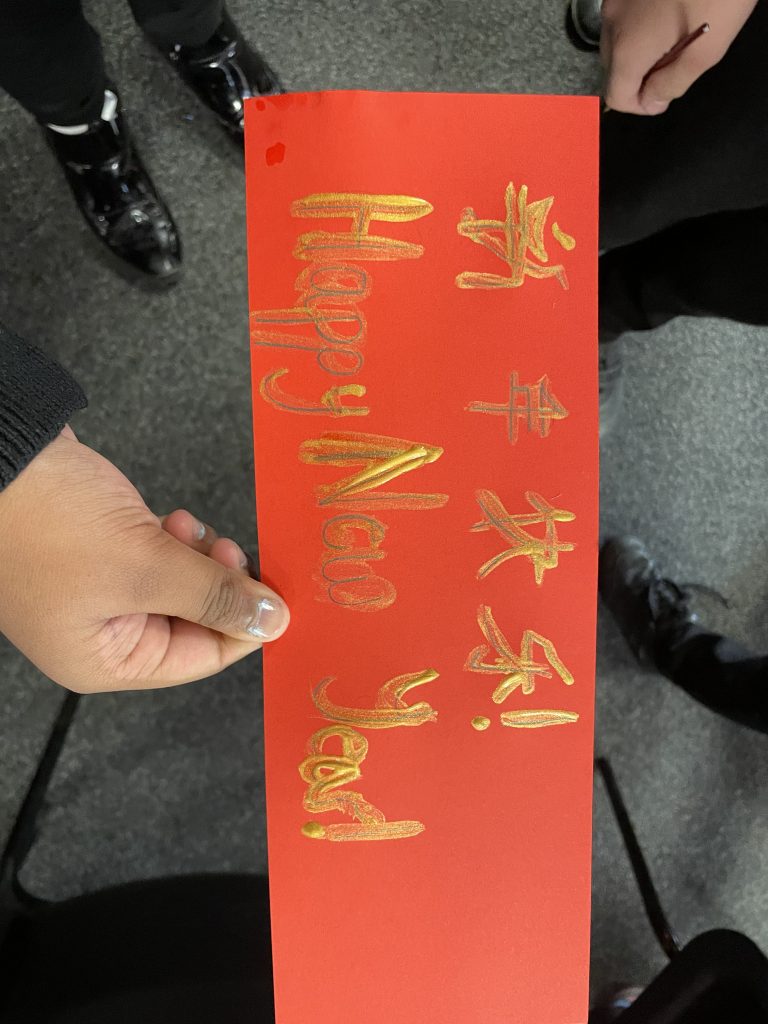 Tuesday 1st February 2022
Years 3 and 5 had a fantastic time learning all about Chinese New Year! The children learnt about the history of the festival, as well as learning about how this is the Year of the Tiger. We discovered that people who are born in the year of the tiger are confident, independent and brave. They are a symbol of power and have been compared to emperors.
In Year 3, the children listened to traditional Chinese music and learnt to drum to the tempo of it. They then had a go at creating their own lucky red Chinese lanterns, using a weaving technique to add colour.
In Year 5, the children listened to some traditional Chinese New Year music whilst they learnt to write 'Happy New Year' using Chinese lettering. They did this using red card (as this is considered to be a lucky colour) and gold paint.
All of the children showed a fantastic growth mindset as they took on the challenges in these activities, whilst developing their understanding of this wonderful celebration of the new year.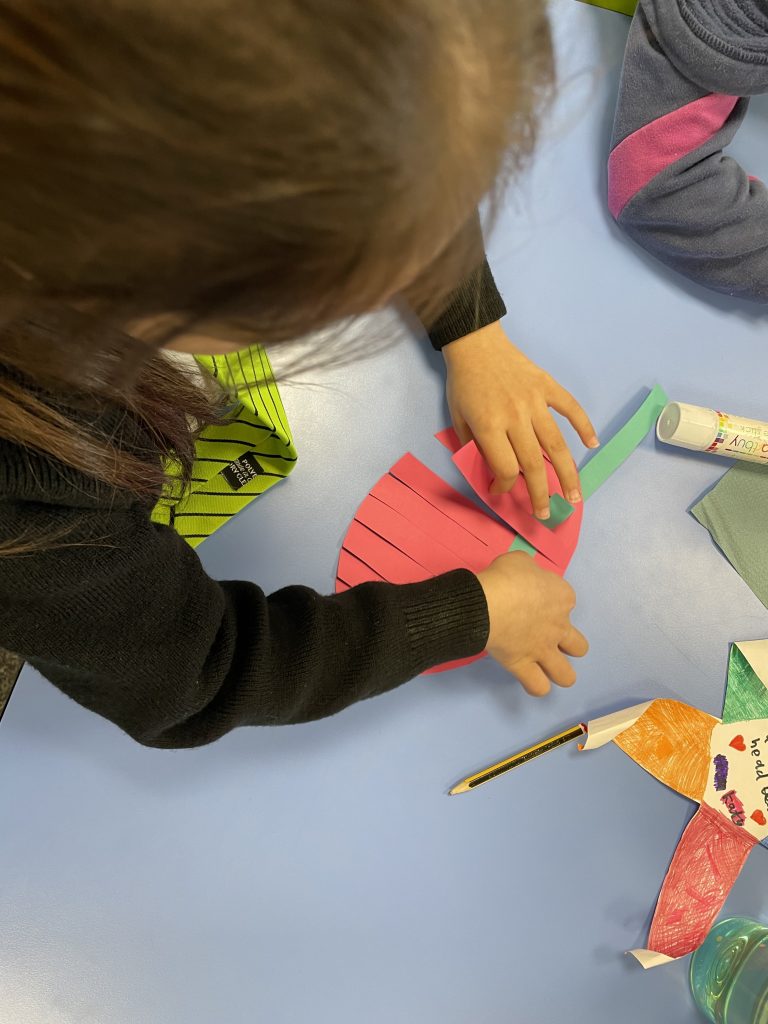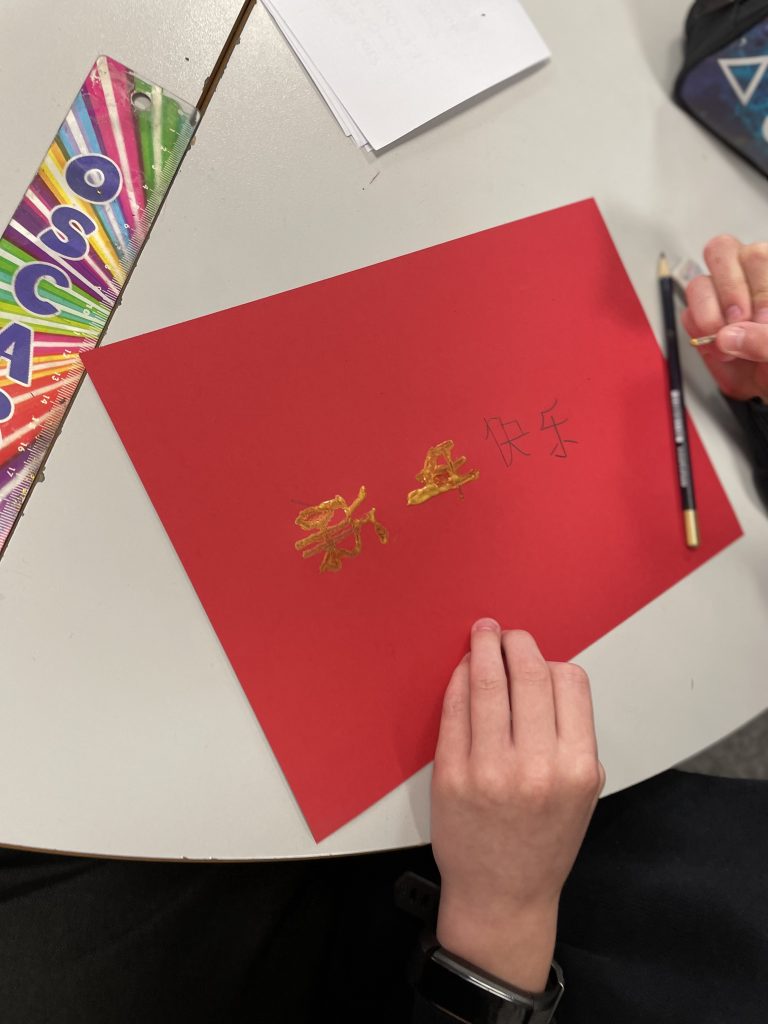 SEJ Aspirations Week 2022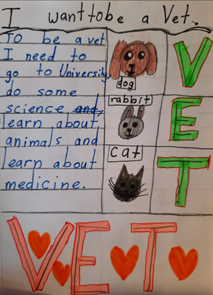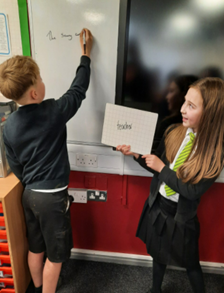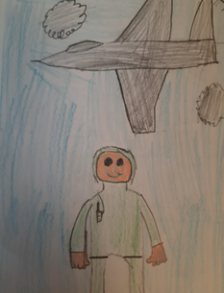 Week beginning 24th January was our 'Aspirations Week' here at SEJ!
All children across the school considered what their future could hold. They learnt about the different jobs they could do and career paths they could take, as well as setting themselves short term goals to reach their dream. Children were encouraged to support their peers in achieving their goals as well as aiming high for their own.
Every child wrote or drew their aspiration on a leaf to form part of our SEJ Aspiration Tree. In Lower Hub, children created an A-Z of jobs and careers and acted out some of these. In Upper Hub, children discussed how some jobs have stereotypes and the how these stereotypes are not always fair or accurate. They learnt about the steps needed to qualify for a variety of jobs. Children talked about the options within compulsory education and what options are available to them after this.
Skip Beatz Growth Mindset Event: September 2021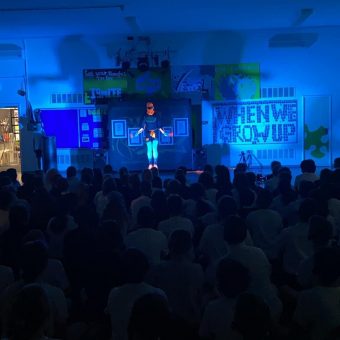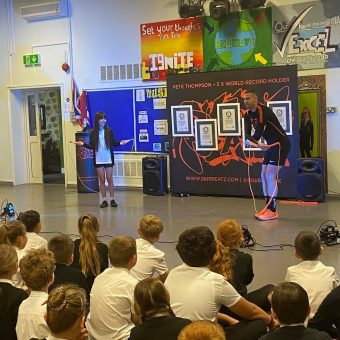 What a fantastic start to the new academic year! SEJ welcomed Pete from Skip Beatz, three times skipping world champion, who wowed and amazed us all with his talents – who knew that a simple skipping rope could be spun so quickly and in so many different manoeuvres! With his dynamic, energetic, and inspiring assembly initiating two days of amazing workshops, there was a huge buzz around the school with lots of excited pupils eager to take part in the skipping workshops. Growth mindset was in abundance as the children took on each challenge and the workshops really helped to embed our school values of showing perseverance and courage when faced with a new task. It was a great day with lots of children leaving with a 'skip' in their step and a newfound skill to rehearse.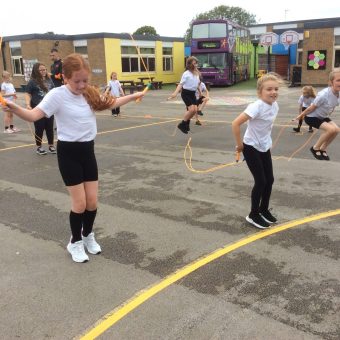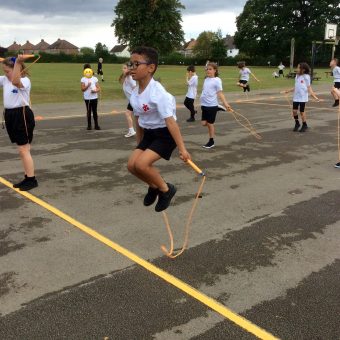 History Week: May 2021
Year 3 had a fantastic week learning about the Romans. They kick started their journey back in time by researching the rotten Romans and their gruesome habits. They then jumped into character to re-enact a Roman battle.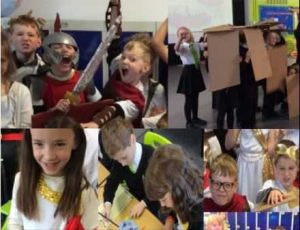 Year 4 have a had a fantastic week exploring the Viking world and learning about the Viking Gods. They also enjoyed re-enacting a Viking invasion. Dramatic expression was in abundance as the children adopted their character roles and perfected the Viking lifestyle brilliantly. It truly was a fully immersive and fantastic week of learning about the Vikings.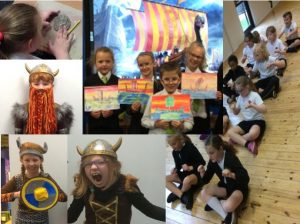 Year 5 are still in de-Nile about history week coming to an end, but what a fantastic week it was! The children transformed themselves into an Egyptian pharaoh focusing on the shapes, patterns and eye make-up that played a big part of Egyptian life. When it was time to get active, the children showed a great determination and perseverance in learning some Egyptian dance moves to form their own sequence.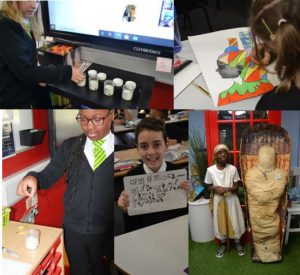 Year 6 have been learning all about Mexico and the Maya. Dressed in Mexican or Mayan themed attire, they explored this unique country, from its towering temples and stunning geography, to its intriguing history and fun festivals! While transported back to 250AD, Year 6 learnt about the Mayan way of life including home, diet, beliefs and inventions.