Uniform
We are very traditional with a real modern twist at South End! However, we strongly believe in high standards and expect this from all our community. The school uniform is absolutely key to our children feeling pride in their school, promoting our school and standing tall as part of the South End community. All our children are expected to wear the full school uniform during the school day and on any other school events unless otherwise advised.
We launched our school uniform in September 2012 with a really funky, modern and smart styling which represents our school perfectly. Our children are extremely proud of their school and uniform and we are delighted this is a huge strength of our school with 100% of children wearing the uniform with pride.
Every September any new child starting at South End are presented on the red carpet with a lime green school tie. This is our present to welcome them into our community. We talk with the children that it is more than just a tie and this shows you are part of the school, follow the values and in everything they do they are an ambassador of South End.
Just to confirm the uniform is:
Black V-neck knitted jumper or cardigan with or without logo
White formal shirt (short or long sleeved)
Green and black school tie Formal black school trousers, shorts or skirt
Smart black school shoes or flat black ankle boots with no coloured logos
Black/grey/white socks or plain black tights
Simple appropriate headwear (muted colours)
White PE T-Shirt with or without house logo
Black PE shorts
Black tracksuit bottoms (cold weather)
Black hooded/unhooded sweatshirt with or without school logo (cold weather)
Black plimsolls or trainers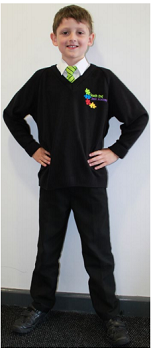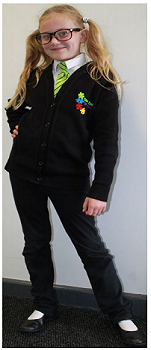 School ties can be purchased from the school Admin Centre.
For full information see our Uniform Policy
Second hand uniform is sold by the school. Clean donations can be handed in any time at the Admin Centre and sale dates are communicated to parents/carers via the school's termly newsletter – The Echo.